The North Carolina Senate voted in June to delay a possible ban on smokable hemp until December 2020, but a proposal to ban hemp this year is currently climbing its way through the House.
Since the launch of the Hemp Farming Act of 2018, hemp and its derivative, CBD (cannabidiol), have flooded gas stations and smoke shops in the Catawba Valley. At least five stores selling solely CBD and hemp have opened in Hickory since January.
But other than the act, the Food and Drug Administration has no regulation on the no-high cannabis compound. To help the process, the FDA has been taking public comments on hemp and CBD via regulations.gov and will continue to until Tuesday.
It's an issue because CBD is touted as the latest wonder in holistic treatment for a number of ailments. In previous Hickory Daily Record stories, users said they take CBD as a painkiller, sleep aid and treatment for anxiety. It comes in all shapes and sizes – oil drops, vape juice, lotion, bath bombs. You name it; they've got it.
It's also used in the FDA-approved drug Epidiolex, which is a medication for reducing seizures.
According to the Associated Press, law officers in North Carolina want smokable hemp gone because its odor and appearance is indistinguishable from marijuana and not banning hemp would practically make marijuana legal.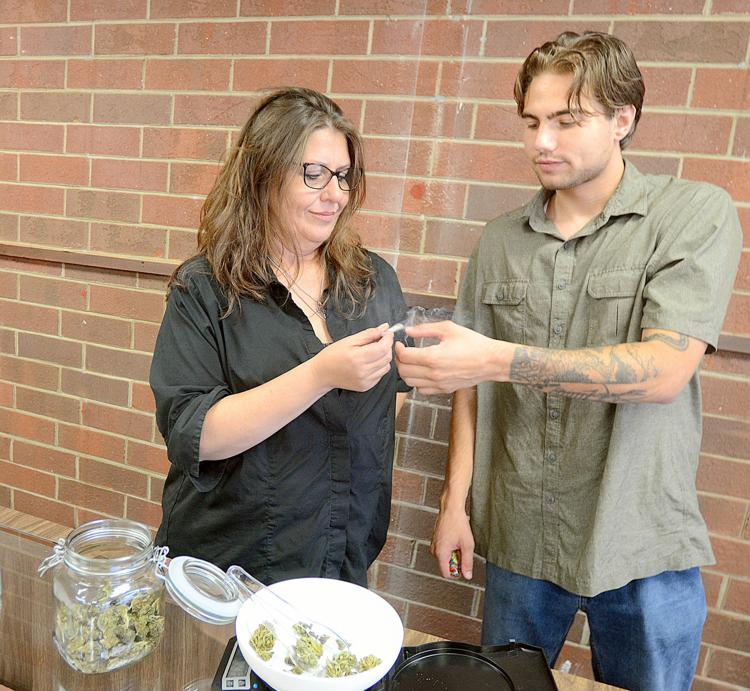 Christine Tobias, co-founder of recently-opened VLifeCBD off Second Avenue SE in Hickory, said if the hemp flower ban ensues, it's going to hurt.
"Flower is definitely one of our top sellers. Inhalation is the most bioavailable way of taking CBD, so some people who need more of a quick relief have to use the inhalation method," Tobias said. "So that would be very detrimental to customers out there using this for medicinal purposes."
Anthony Fulginiti, VLifeCBD co-founder, said customers from 18 to 70-plus purchase smokable flowers or buds to specifically treat allergies, pain and sleep deprivation.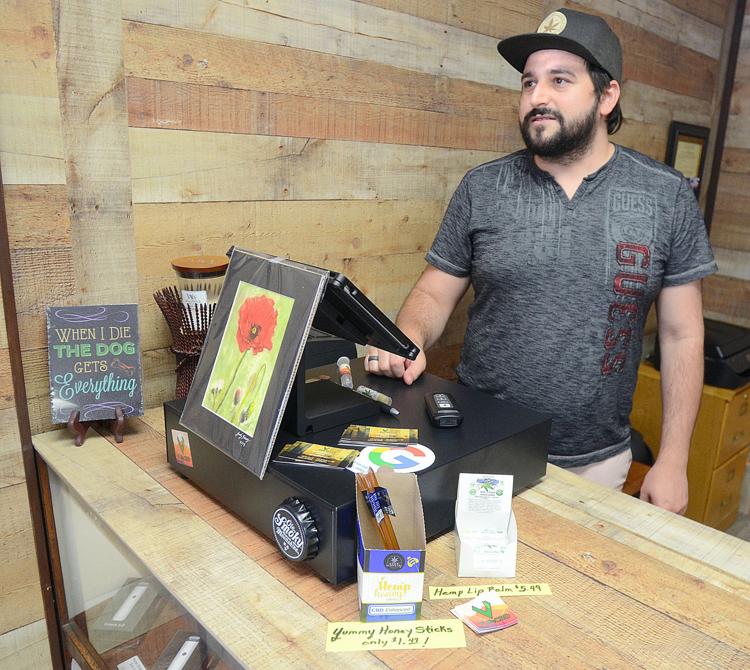 "I would be devastated to have to tell those customers, 'I'm sorry, but it's now banned because your government won't allow it.' We don't understand that," Fulginiti said.
Smokable flower is what hemp processors, such as Conover's Sugarleaf Labs, use to make various CBD products. Banning the smokable hemp would create a lot of gray area for farmers and processors.
"To ban the flower like that; it's going to hurt the farmers," Tobias said. "And these are the people who are the backbone of our country. They're the backbone of our state."
Jake Reed, who works as a sale consultant for CBD oil maker Lux Botanics in Black Mountain and supplies VLifeCBD, said he expects consumer prices for CBD to rocket if smokable hemp is outlawed. More regulation means processors pay more to farmers, and the prices rise as products find their way to the customer.
"Why make an early decision when it's an interstate commerce issue … why knock ourselves out of the game already? I mean, we've worked hard to get here and legislators worked hard to get here," Reed said.
Fulginiti encourages more FDA regulation but wants it in the fairest way possible.
"For the FDA comment, our response is we want regulation; we want there to be safe regulation for customers making it easy to understand, but at the same time, we don't want any type of block or ban on any types of products that's premature," Fulginiti said.
Local hemp and CBD stores, such as Natural Elements of N.C. and The Green LYF, seal the hemp and give the customer a printed receipt with information about the strain that was purchased. This is to eliminate confusion if a customer were to be pulled over or engaged with law enforcement.
VLifeCBD has a similar process. They also tell their customers not to smoke their products in the car or in the public.
"I've spoken with a few officers here in town and said if you pull somebody over and you see something and you're not sure, (or) they say they bought it from our store, if it's all right with them you're welcome to call me to verify the purchase," Tobias said.
Editor's note: This story was changed Saturday morning to accurately reflect what conditions local users take CBD and hemp for.